NOVEMBER 26, 2020 UPDATE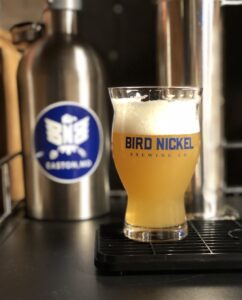 Friends,
Happy Thanksgiving!
We have so much to be thankful for this year. Our first beer, Slick Calm, was released in early August and has been a big hit around the Mid-Shore region.
And, as you can see in the photo above, we have a new beer coming out soon- a light, smooth and tropical NEIPA coming in around 6.7% ABV. We were hoping to release it before Christmas, but it looks like it will be sometime in January 2021. Stay tuned to our website and on Facebook and Instagram for more details on our new beer.
Slick Calm is still available in the Mid-Shore region and in certain locations on the Western Shore. Go to our Where to Find Us page to find out where you can buy Slick Calm in Maryland.
We have so many people to thank who have helped us get off the ground and the list will surely grow as we continue to move forward with finding a location in Easton.
Many thanks to (in no particular order): Hutchison Machining; the Town of Denton; the Comptroller's Office; Brewer's Association of Maryland; Pub Dog Brewing Company; Katie Mychailyszyn; Iron Heart Canning; InTouch Labels; Bay Imprints; Mark Supik & Co.; Grand Rental Station; Hair of the Dog/Snifters; Harry's in Denton; Wishing Well, Harrison's; The Village Shoppe; Bargain Beverage; Whitey's Liquors; District East; Ava's Pizzeria; Anthony's Liquors; Town & Country; 424 Wine & Spirits; Cambridge Market; Magothy Wine & Spirits; and to our friends and family who have supported us in so many ways.
As you gather around the Thanksgiving table with your friends and family, take a moment to give thanks for what you have and for the people sitting around you. It's been a difficult year for us all…some more than others. We hope your day is filled with great conversation, special moments, laughter and love.
HAPPY THANKSGIVING! Enjoy! Be safe!
-BNB