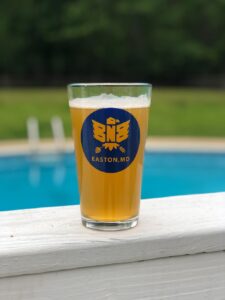 Our first release is a Chesapeake Ale. It's a modern twist on the cream ale style that was popular in the Mid-Atlantic region before Prohibition. The base malt comes from a malt producer in Delaware and our use of rye malt is a tip of the hat to Maryland's historical ties to the rye whiskey industry. The rye gives the beer a nice, crisp and slightly spicy finish. ABV 5.4%
Our second release will be out sometime in January 2021. It's a light, tropical NEIPA that's been triple dry-hopped with hops from the US, NZ and Germany. The deliberately low bitterness is evident in the background while the tropical and citrusy notes from the hops takes center stage. And, you'll notice the smooth, pillowy mouthfeel from the generous amount of Flaked Oats. If you're looking for a hopped-up hazy, this beer is not for you. It's an easy-drinking, 6.7% ABV New England IPA with an IBU of around 60 that won't wreck your palate. COMING SOON!
While we are working on finding a location in Easton, we plan on releasing several other beers in the Mid-Shore area (and beyond, if possible). Check this website and on social media for updates!